3CX Webmeeting has recently seen some much needed updates, and with the current working conditions requiring many to work from home, this couldn't have come at a better time. The updates include an improved UI with a much better layout for multi-person meeting, better moderation controls, and some quality of life updates for iOS devices as well. There's also been some optimization under the hood to improve bandwidth and CPU utilization, making WebMeeting lighter and faster than ever.
Better Moderation Controls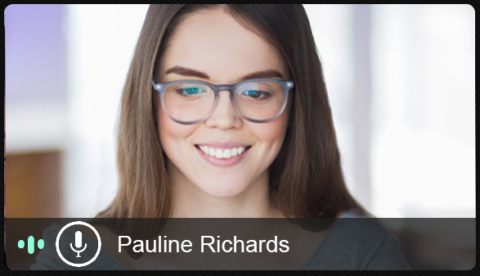 You'll quickly notice that there is now dedicated audio controls on each participants video tile. This will allow the organizer / moderator to quickly and easily visualize where audio is coming from, and control the audio for the meeting. Organizers can mute or unmute each participants directly from the participant tile.
New Bandwidth and CPU Optimizations
New optimizations to bandwidth and CPU usage have also been added with the recent updates, reducing the resources required for each participant. This is most noticeable in larger meetings, where much less bandwidth and CPU load is now needed vs. before the update.
Cleaning Up the Screen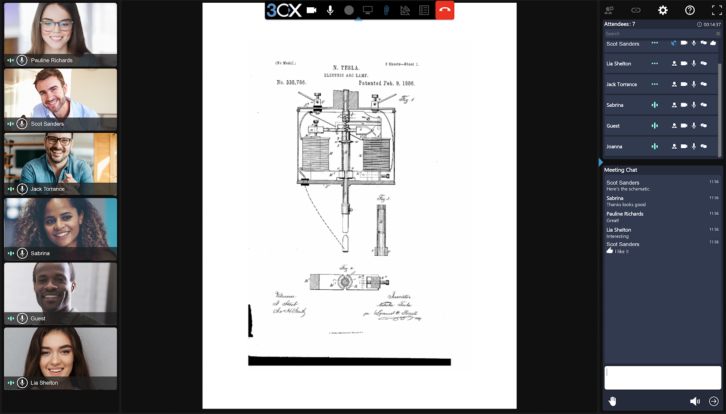 Users will now see a unified grid layout, which is important for larger meetings with participants using various video devices, such as different webcams, laptop cameras, tablets and smartphones. This allows a more organized screen for the host and participants.
When documents, screens, or polls are shared, the video tiles from participants are now displayed on the left hand side. This allows a clean, unobstructed view of the information being shared, and increases collaboration and focus.
Simplified Joining from iOS Devices
Users of the iOS WebMeeting app can now join a meeting simply by clicking on the web meeting link. If the app is not installed, the page shown will include link to the app and instructions on installation. This will be duplicated for Android users in a future update.
Newly Supported Browsers
3CX has also added native support for the New Microsoft Edge browser and Safari 13 (both macOS Catalina and iOS 13) alongside Chrome, Firefox, and Opera. Users with these browsers simply need to click the meeting link and they will be taken directly to the meeting.
Participant using an unsupported browser will be taken to a page clearly showing browser compatibility so they can be up to date on how they can join.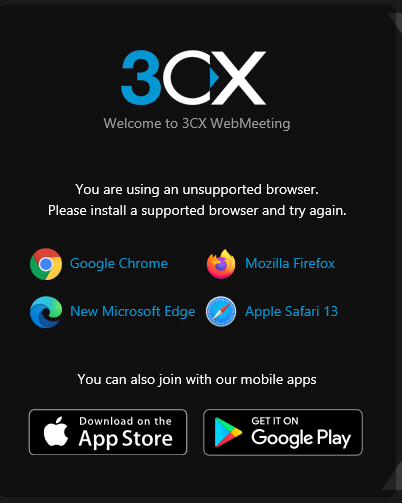 To learn more about these update, or see how AWC Communications can help with your office communications, click here to contact us.